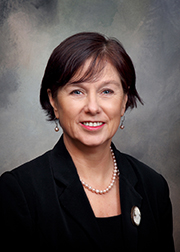 Committees: Personnel Committee (Committee of the Whole); Cranbrook Public Library Board; Cranbrook History Centre.

Career Achievements:
Bachelor of Science in Forestry, University of Toronto, 1983;
Bachelor of Education, Laurentian University, 1991;
Masters in Leadership and Administration, Gonzaga University, 2009;
Teacher of forestry, math and science at Mt. Baker Senior Secondary School;
Forestry education consultant for a group of East Kootenay forest companies;
Forester for the Ontario Ministry of Natural Resources.

Personal Information:
Resident of Cranbrook since 1995; mother of three adult children; avid hiker, biker, skier, camper and canoeist.
To contact Councillor Blissett, please email Norma.Blissett@cranbrook.ca